Bio
We play the best music in the world, for the best fans in the world, at the best venues in the world.  If you love Journey,... you'll love LEGEND! We play their greatest hits in a concert style format... LEGEND is focused at playing larger venues, Corporate parties, Casinos, and Special events. LEGEND delivers an uncompromising energetic show based around five talented musicians.  Guaranteed crowd pleaser... professional attitude.... dynamic performance...  Entertainment at it's best.. LEGEND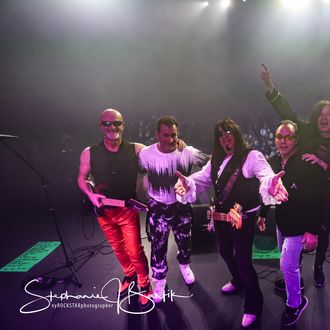 LEGEND and E1 Entertainment aim to please, and will rock the house!
The Band
Michael Ledesma- Lead Vocals. 
Ed Bornt- Guitars, Backing Vocals.
Reg Kafouris- Keyboards, Rhythm Guitars, Lead and Backing Vocals.
CJ Benenati- Bass Guitar, Backing Vocals.
Richie Stigberg (ASCAP)- Drums, Backing Vocals.
We Are Grateful!
LEGEND  would like to thank the following professionals and people for sharing their time, talent, and products with us-  
Live Performance Bookings: John Myers- Entertainment 1 Presents.   www.e1presents.com
Studio Recording/ Live Performance Sound: John Chiara- Albany Audio Associates, Inc. www.albanyaudio.com
Studio Photography: Dino Petrocelli- Dino Petrocelli Photography. www.dinopetrocelliphoto.com
Live Performance Photography: Stephanie J. Bartik- NY Rockstar Photographer. www.nyROCKSTARphotographer.com
Rehearsal Space: Jon and Sue Batchelder- Northeast Commercial Interiors, LLC
Road Crew: Kyle Avery, 
… and we are especially grateful for Jess, Christine, Sharon Ann, Amanda- your unending love and support means the world to us!