The band
 Michael Ledesma (Lead vocals) is a singer, songwriter, producer, guitarist, frontman for some of the top tribute bands in America.
Edward (Eddie) Bornt, Six string wizardry & background vocals, 
Prior history: Stargazam , Renegade, The Lazers and Off Kilter.
Reggie Kafouris , Keyboards, Rythmn & Acoustic Guitar & background vocals. Magic fingers.
Prior history: Lady Strange
CJ Benenati, Bass & background vocals. Low end shaker.
Prior history: Roxx, The Lazers, Neon Records artists Triffid, Nasty Habits, Black Jack Romeo, The Art of War Band.
Richie Stigberg; Drums, Background Vocals
Prior experience- Ryan Clark (Nashville recording artist) Chris Mahoney Project (True2UrSelf/ Bohemian Productions),  
DickieStiggs.com- freelance regional drummer.
Bio
We play the best music in the world, for the best fans in the world, at the best venues in the world.  If you love Journey,... you'll love LEGEND! We play their greatest hits in a concert style format... LEGEND is focused at playing larger venues, Corporate parties, Casinos, and Special events. LEGEND delivers an uncompromising energetic show based around five talented musicians.  Guaranteed crowd pleaser... professional attitude.... dynamic performance...  Entertainment at it's best.. LEGEND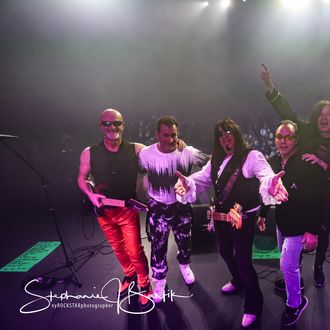 LEGEND and E1 Entertainment aim to please, and will rock the house!
We Are Grateful!
LEGEND  would like to thank the following professionals for sharing their time, talent, and products with us-  
Live Performance Bookings: John Myers- Entertainment 1 Presents.   www.e1presents.com
Studio Recording/ Live Performance Sound: John Chiara- Albany Audio Associates, Inc. www.albanyaudio.com
Studio Photography: Dino Petrocelli- Dino Petrocelli Photography. www.dinopetrocelliphoto.com
Live Performance Photography: Stephanie J. Bartik- NY Rockstar Photographer. www.nyROCKSTARphotographer.com
Rehearsal Space: Jon and Sue Batchelder- Northeast Commercial Interiors, LLC